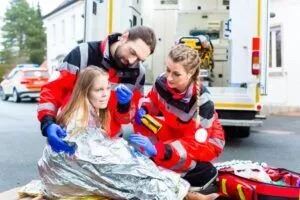 Being involved in a car crash can leave a victim with serious injuries, some of which may be immediately apparent and others less so.
Shock is the body's reaction to trauma. It responds by shutting down bodily functions or compartmentalizing stimuli to protect itself as a whole. That means a crash victim can suffer major, life-altering injuries they're unaware of immediately after the underlying accident.
What Is Delayed Shock After an Accident?
Two main kinds of delayed shock can occur after a motor vehicle crash or another traumatic incident. The first is physiological shock, which the Mayo Clinic defines as a sudden drop in blood flow after an accident or traumatic event.
There are several different forms of physiological shock, including:
Spinal shock

– Also known as neurogenic shock, spinal shock is caused when the body suffers damage to its spinal cord and can no longer maintain proper blood flow, circulation, and body temperature.

Hypovolemic shock

– Hypovolemic shock occurs when there is no longer enough blood in the arteries and veins to provide the internal organs with the oxygen they need. Hypovolemic shock often results from severe blood loss due to a penetrative injury.

Obstructive shock

– Obstructive shock occurs when something prevents blood from getting to where it needs to go, especially to critical internal organs. Obstructive shock can result from a collapsed lung or similar injury.

Distributive shock

– Distributive shock occurs when something causes the blood vessels to lose their tone, making them unable to carry blood effectively. Distributive shock is often caused by sepsis, severe allergic reactions, or an injury to the nervous system.

Cardiogenic shock

– Cardiogenic shock results from decreased blood flow throughout the body, usually due to an injury to the heart.
The other kind of shock that can occur after an accident is mental shock. Mental shock is often referred to as post-traumatic stress disorder (PTSD) and usually involves:
Dizziness
Nausea and vomiting
Chest pain
Irregular heartbeat
High blood pressure
Nightmares about or flashbacks to the traumatic event 
Hyperventilating
Heightened anxiety and other strong emotions after the traumatic event
Feeling confused and disoriented
Dilated pupils
What makes mental shock so distressing after an accident is that you may experience its effects long after your physical injuries have healed. Overcoming mental shock after an accident often requires psychological counseling and other treatments, so talk to a doctor as soon as you notice these symptoms.
How to Claim a Delayed Injury
To secure compensation for shock and other delayed injuries from an accident, you should:
See a doctor

right away to start treatment.

Seek help from a mental health professional.
Watch what you say

to insurance companies.

Hold on to all your medical records.
Talk to a personal injury attorney.
Depending on the underlying facts of the accident and your resulting losses, you could be owed compensation for:
Medical bills
The cost of mental health counseling
Emotional distress
Lost wages
Contact Our Car Accident Attorneys in Shelby Today
The Shelby car accident lawyers at the law firm of Teddy, Meekins & Talbert, P.L.L.C. are ready to help if you experienced delayed shock symptoms after a crash. Contact our office now for more information.
A native North Carolinian and a fourth-generation lawyer, Ralph W. Meekins literally had the desire to help those who are not able to help themselves as well as to be a practical life adviser to people in his blood.