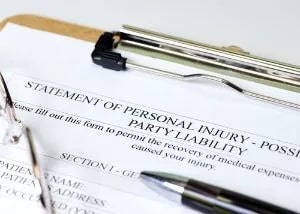 Were you injured recently in a car wreck, truck collision, or another accident caused by another driver's negligence? Did someone you love get hurt in a slip-and-fall accident at a local business? Did a defective product result in injuries to you or a family member? If you recently suffered serious personal injuries in an accident, you may be able to file a claim for compensation.
At Teddy, Meekins & Talbert, P.L.L.C., we are dedicated to helping personal injury victims in Western North Carolina. We provide personalized representation to each client, and we work tirelessly in pursuit of full and fair settlements and verdicts on behalf of those we represent. If you have questions about filing a personal injury claim in North Carolina, talk to one of our experienced attorneys today.
Why Should I File a North Carolina Personal Injury Lawsuit?
When another party's negligence or careless behavior results in serious injuries that require extensive medical treatment and prevent you from working, you should not have to pay the price. North Carolina personal injury settlements can provide a person who was unjustly injured with the money needed to pay for hospital bills and future medical treatments. Settlement awards can also help to ease the burden associated with lost wages.
Under North Carolina law, plaintiffs can be eligible to receive both economic and non-economic compensatory damages. Economic damages provide for objective losses, such as the costs of hospital bills or lost wages. Non-economic damages provide for more subjective losses, such as pain and suffering.
In some cases, plaintiffs may be eligible to receive punitive damages, which the law defines as those designed to "punish a defendant for egregiously wrongful acts and to deter the defendant and others from committing similar wrongful acts."
Making a Personal Injury Claim in North Carolina
It is important to begin preparing for a personal injury claim as soon as you can after an accident occurs. You should take these steps to protect your rights after an injury:
Never admit fault to anyone at the scene of the accident, including emergency medical responders or law enforcement officers.
Write down the names and contact information for all parties at the scene, including any potential witnesses as well as any potentially negligent parties.
Take as many photos as possible, and from as many angles as possible, being sure to document your injuries in close-up photographs as well as more large-scale pictures that depict the entire scene of the accident.
If you are required to contact your insurer after a car accident, answer your insurer's questions factually and honestly, but avoid providing any type of opinion-based information, as the insurance company is not on your side.
Always speak with an experienced personal injury attorney who can help with your case.
What If I Was Partially Responsible for the Accident?
Even if you believe you may have been partially responsible for the accident and your injuries, you still may be eligible to recover damages. As we mentioned above, you should never admit fault at the scene of the accident or while speaking to any insurance company representatives. Why should you avoid admitting fault? In short, you might be wrong — you may not be at fault at all. Moreover, the other side can try to use such information against you to avoid paying damages if you mistakenly asserted that you were partially responsible for the accident.
North Carolina law follows a theory of pure contributory negligence, which means that if a jury determines a plaintiff to be even 1 percent at fault for an accident, the plaintiff cannot recover anything.
Even if you are not sure about your responsibility for an accident, it is always worth discussing your case with a North Carolina personal injury lawyer and learning more about filing a personal injury lawsuit.
Statute of Limitations for Personal Injury Lawsuits in North Carolina
It is imperative that you file your personal injury lawsuit within North Carolina's statute of limitations, which is three years from the date of your injury or from the time you discovered your injuries. This may seem like a significant window of time, but the sooner you can discuss your case with a lawyer, the better. A good personal injury attorney will want to have enough time to collect all the evidence and build a strong case for compensation.
Contact a Cleveland County Personal Injury Attorney Today
If you or someone you love recently suffered injuries in an accident, you may be eligible to seek financial compensation by filing a personal injury lawsuit. Our lawyers will advocate for your right to compensation through the phases of discovery and negotiation, and to a jury verdict if necessary.
Our dedicated personal injury lawyers in Cleveland County, N.C., can speak with you today about your case. Contact Teddy, Meekins & Talbert, P.L.L.C., to learn more about how our experienced trial lawyers can assist you.
A native North Carolinian and a fourth-generation lawyer, Ralph W. Meekins literally had the desire to help those who are not able to help themselves as well as to be a practical life adviser to people in his blood.