Denied Workers' Compensation in North Carolina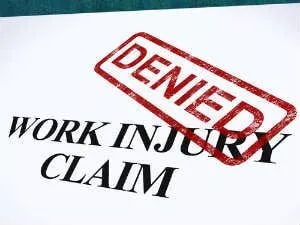 Many employers are legitimately concerned for the welfare of their employees and are careful to obtain the correct insurance and approve valid workers' compensation claims. Unfortunately, not all employers and insurers are so honest, and many employees with legitimate claims are denied workers' compensation.
If you were injured on the job, but your workers' compensation claim was denied, you may feel helpless or be wondering what to do next. The good news is that employees who have been refused workers' compensation benefits can take steps both to increase their chances of claim approval and to appeal a denial.
Worker's Comp Denial Reasons
Some of the most common reasons for claim denials involve an omission or mistake in the original claim. For instance, if there is a discrepancy between the accident report and the medical records, an insurer is not likely to approve a claim. Here are the other most common reasons why workers' comp claims are denied in North Carolina:
1. There were no witnesses to the injury.
In some cases, an injury at work just so happens to occur when no one else is around. These individuals can still receive workers' compensation, although it will be especially important to report the accident to coworkers and supervisors as soon as possible. Maintaining a consistent story can also help overcome a lack of witness testimony.
2. The injury was not reported immediately.
One of the N.C. workers' compensation requirements is that all employees who were injured on the job must notify their employers within one month of the injury, according to the North Carolina Industrial Commission (NCIC). A failure to meet this deadline could delay a claim or even lead to its denial as insurers are often suspicious of claims that were not reported until months after the actual accident.
Failing to report immediately, such as after a slip-and-fall accident at work,  can also be dangerous for employees who may be fired or laid off in the intervening time as insurers are much less likely to approve a claim after an employee has been terminated.
3. The medical records indicate the presence of illegal drugs in an injured person's system.
Although workers' compensation is technically a no-fault program, injuries suffered in the course of certain activities are not covered. For example, self-inflicted injuries or those caused by the use of drugs or alcohol are not covered.
4. The employer claims that the injury did not occur at work.
To qualify for workers' compensation benefits under the program, a person must have been injured in the course of employment, which means that an employee was injured at work while he or she was performing work duties. Some insurers may argue that an injured employee was not performing work-related duties or was not on company property at the time of the accident. For example, injuries caused by horseplay at the office can be denied unless the injured employee can establish that his or her employer knew about and tolerated that type of behavior on a regular basis.
Again, providing thorough evidence, including witness statements, time sheets, and even video recordings can make it difficult for an employer to deny a claim based on this reasoning.
5. The employee has no proof of medical treatment.
If an employee was injured and did not seek medical treatment, his or her claim will likely be denied. Insurers and employers are suspicious when workers claim to be seriously injured but have no proof of medical treatment. Immediately seeking medical care after an injury can help avoid this problem as it will ensure that there is a strong paper trail demonstrating diagnoses and treatments.
6. The denial was based on discrimination.
The Retaliatory Employment Discrimination Act (REDA) specifically protects employees from being denied benefits and from being fired, demoted, or suspended in retaliation for filing a workers' compensation claim. If you believe that your claim was denied based on discrimination, it is important to seek the advice of an experienced attorney as soon as possible.
Although it is possible to appeal a denied claim to the North Carolina Industrial Commission, the process can be time-consuming and emotionally exhausting, making it especially important for injured employees to provide honest and extensive evidence in their initial claim.
What Happens If Your Workers' Comp Claim Is Denied?
In North Carolina, a workers' compensation insurer must approve or deny a claim for benefits within two weeks of the date of injury. If denied, the insurer must send a notice explaining the reason. The injured employee then has the opportunity to appeal the denial by completing Form 33 and submitting it to the NCIC within two years of the injury. Fortunately, even when a claim is denied, an employee can only be billed for treatment received by medical providers after an official decision has been issued regarding the claim.
All appeals sent to the NCIC are automatically referred to mediation, where a neutral third party will try to help reach a settlement. If the parties still can't agree, a date for a formal hearing will be set.
At formal hearings, the injured party is required to present evidence demonstrating that the denial was incorrect, after which a deputy commissioner issues a written order. If a claim is again denied, the employee can submit an Application for Review to the full commission within 15 days of the decision.
The full commission is made up of three judges who can choose to make a decision based on written briefs submitted by the party or to schedule oral arguments. Further denials can only be appealed to the North Carolina Court of Appeals and the North Carolina Supreme Court.
Contact Our Experienced Workers' Compensation Attorneys Now
Being injured on the job leaves many employees unsure of what to do next or afraid that their workers' compensation claim will be denied. We understand that applying for workers' compensation can be an emotional process, and our attorneys are here to help the proceedings go as smoothly as possible.
At Teddy, Meekins & Talbert, P.L.L.C., we are dedicated to helping you find solutions to your workers' compensation issues. Schedule a free claim consultation today to learn how we can help. We are available to you via online chat and phone and will set up a consultation with you within 24 hours of your request.
Additional Workers' Comp Information
A native North Carolinian and a fourth-generation lawyer, Ralph W. Meekins literally had the desire to help those who are not able to help themselves as well as to be a practical life adviser to people in his blood.