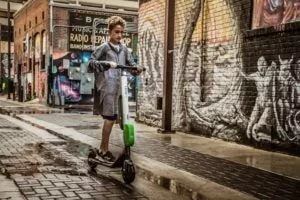 Over the past year, electric scooters from companies like Lime, Bird, Lyft, Skip, Spin and others began appearing on sidewalks and streets in cities across the U.S. Also known as dockless scooters (since they do not need to be returned to a dock between rides), these vehicles can reach speeds up to 15 mph. They are generally promoted as environmentally friendly, inexpensive, and convenient transportation options.
Scooter riders, pedestrians, and drivers alike are all at risk of serious and possibly fatal injuries if they are involved in an accident. Drivers may fail to see scooter riders on busy streets or at night, scooter riders may be careless or unsure how to safely ride, and road hazards are all common dangers that could lead to severe injury accidents.
Unfortunately, with the explosive growth and popularity of dockless scooters, an increase in crashes is inevitable. If you've been hurt in a dockless scooter crash caused by a reckless rider or if you were hurt by a negligent motorist, be sure to contact an attorney to discuss your rights and legal options.
Common Causes of Electric Scooter Accidents
Many dockless scooter companies have orientation videos and literature that instruct riders on riding best practices and safety tips. However, since the rental experience is geared toward convenience, riders aren't required to watch these videos and can miss out on important, potentially life-saving information. Riders are also not required to wear helmets (and helmets aren't usually available at the point of rental), so riders are at risk of severe head injuries in the event of a crash.
Some common causes of scooter accidents include:
Scooter defects or malfunctions
Road defects
Operating while under the influence
Speeding or aggressive rider behavior
Rider inexperience
Though many scooter companies encourage riders to perform a safety check before riding a scooter, riders are not the best people to evaluate and detect mechanical defects.
Accidents don't just happen when the scooter is in motion. Because the riders are allowed to simply park and leave the vehicles wherever they are done riding, unsafe placement of these vehicles is also a safety issue. Scooters are often abandoned on busy streets or in the middle of sidewalks, or they can block building entrances, exits, and access ramps.
When scooter riders and others fail to consider the safety of others when riding or parking these vehicles, drivers, riders, and pedestrians are all at risk of injury.
Types of Injuries Caused by Accidents on Scooters
Because of their small size, scooters provide almost no protection to the rider in the event of a crash or collision. Helmets, while encouraged by the companies, are not required and are not conveniently provided. At even relatively low speeds, this can be a recipe for severe or even fatal injuries.
According to a story on CNN, Dr. Sam Torbati, co-chair of the emergency department at Cedars-Sinai Medical Center in Los Angeles, says that electric scooters are "no safer than any other motorized vehicles, and in some ways, are more dangerous than a bicycle." Stories of riders being struck by cars and trucks or being injured when falling off of scooters have started to make headlines across the country.
Commonly reported scooter accident injuries include:
Head injuries
Traumatic brain injuries
Facial trauma
Lacerations
Broken bones
Internal bleeding
Road rash
If you were hurt in a scooter accident through no fault of your own, you could be eligible for compensation. The rider, the scooter company, or another driver could be held responsible if they were negligent in any way. Be sure to reach out to an attorney with the right experience and track record of success in handling injury claims.
Contact a Shelby Personal Injury Lawyer If You Have Been Injured by a Scooter
The trial attorneys at Teddy, Meekins & Talbert, P.L.L.C., fight for those who have been injured due to negligence in North Carolina. If an electric scooter accident caused you harm as a rider, motorist, or pedestrian, contact us to discuss your case.
You can reach us by phone, by filling out a contact form, or by chatting with us live on our site.
A native North Carolinian and a fourth-generation lawyer, Ralph W. Meekins literally had the desire to help those who are not able to help themselves as well as to be a practical life adviser to people in his blood.