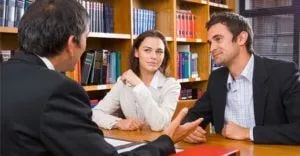 Appearances matter, and that's as true in court as it is everywhere else. Some people think that they can show up to court wearing whatever they want and it won't impact their case. Unfortunately, this is not true. What you wear to court can have a significant effect on the judge, the jury, and the outcome of your case.
What Do You Wear to Court
Our clients often ask us for advice on what to wear to court, and we're always happy to help them. If you need to know how to dress for court, follow the tips below. They'll help you meet the court's expectations, and they'll help you make the best impression possible.
Remember, when you're in a courtroom, the judge is the one calling the shots. When you dress appropriately, you're showing the judge respect. When you show the judge respect, you're helping yourself and your case.
Follow these tips on court attire:
Colors and pattern are important. A courtroom is a conservative environment. Dark blue, black, gray, and other subdued colors are the best for court. Don't wear bright colors or patterns that catch the eye or distract those around you. A courtroom is not the place to make a fashion statement or to push the boundaries of what's acceptable.
Men should wear a suit if possible. If you don't own a suit, or can't afford one, wear a dress shirt, a tie, a dress coat, and slacks. Make sure that your clothing fits well. The court wants to see that you are mature and that you can follow the rules that it has set.
Women should wear a suit or a conservative dress. Again, the court wants to see mature people who are in court to settle a problem. When you wear a suit or a conservative dress, it tells the court that you respect its rules.
Shoes should be closed-toe and sensible for the setting.
Jewelry should be conservative. Don't wear flashy or large jewelry. If you need to wear jewelry, keep it simple.
What Not To Wear To Court
We're often asked about what not to wear to court. Some clothing to avoid includes:
Jeans
Shorts
Hats
T-shirts
Casual clothing
Athletic clothing
Revealing clothing
Clothing that fits poorly
If you need to appear in court, remember that the goal is to please the court. The court is pleased when you don't distract the court or violate its rules. Don't draw attention to yourself and don't wear inappropriate clothing.
Let North Carolina Lawyers Be Your Guide in the Courtroom and Beyond
If you need to appear in court, make sure you know how you should dress to present yourself in the best light. At Teddy, Meekins & Talbert, P.L.L.C., we care about our clients, from criminal law,larceny, drug offenses, assault & battery, to family law and personal injury law. When they need to appear in court, we make sure they're prepared. No matter what type of proceeding you need to attend, we'll be with you every step of the way.
We're proud to represent clients throughout North Carolina. If you require legal representation, we'll give you the guidance and counsel you need. Call us or use our online contact form today.
Courtroom attire for jurors article, Wall Street Journal.
A lifelong resident of Shelby, North Carolina, David Teddy was raised with a strong desire to help the people of the community he grew up in. It was this desire to help others along with his appreciation of the art of debate that first spurred his drive to practice law.