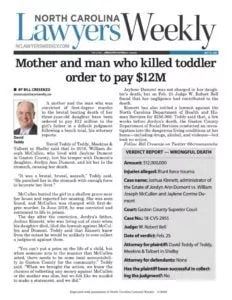 Two people have been ordered to pay $12 million dollars to the father of a 3 year old toddler who was brutally beaten to death in North Carolina.
David Teddy, of Teddy, Meekins & Talbert, P.L.L.C., in Shelby, said that William Joseph McCullen, who lived with Jaylene Dumont, hit Dumont's daughter in the stomach after losing his temper, resulting in the death of the toddler.
"It was a brutal, brutal, assault," Teddy said. "He punched her in the stomach with enough force to lacerate her liver."
Afterwards, the toddler was reported missing. However, McCullen buried the girl in a shallow grave near her house. McCullen was charged with first-degree murder after the body was discovered. In June 2018, McCullen was convicted and sentenced to life in prison.
Wrongful Death Lawsuit in North Carolina
Joshua Kinnett, father of the toddler, filed a lawsuit against McCullen and Dumont the day after the conviction.
"You can't put a price on the life of a child, but when someone acts in the manner that McCullen acted, there needs to be some local accountability in Gaston County for the community," Teddy said.
"When we brought the action, we knew the chances of collecting any money against McCullen or the mother was slim, but we felt like we needed to make a statement, and we did."
Negligence in a Wrongful Death Case
Jaylene Dumont was not charged in her daughter's death. However, Judge W. Robert Bell found that she contributed to the death by acting negligent. There is also a settled lawsuit against the North Carolina Department of Health and Human Services for an amount of $250,000 stemming from an investigation by The Gaston County Department of Social Services. A few weeks prior to the toddler's death, dangerous living conditions were discovered within the home – including drugs, alcohol, and violence.
Contact Teddy, Meekins & Talbert, P.L.L.C., for your Wrongful Death Case
In addition to our professional recognition, we pride ourselves on our ties to the community here in Shelby. We are members of the community, we're your friends and neighbors, and several of our team members have spent their entire lives here. We have committed our professional lives to helping people here in Shelby, and we're here to help you when you need us most. Contact us today to get help with your wrongful death case in Shelby, NC.
A native North Carolinian and a fourth-generation lawyer, Ralph W. Meekins literally had the desire to help those who are not able to help themselves as well as to be a practical life adviser to people in his blood.