Tips for Your Court Hearing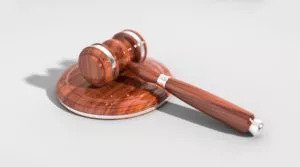 Dress appropriately to show respect for the court. Always try to appear neat and clean. A courtroom is a serious place and your appearance should reflect the importance of the occasion. First impressions make a difference. A good rule of thumb is to wear clothing that would be appropriate for church. gavel on white background
For men: slacks, a collared shirt-button up or polo/golf shirt tucked in and pants pulled up with a belt.
For women: dresses or skirts at appropriate lengths, slacks, a nice blouse, and nice shoes. Dress conservatively and wear properly fitted clothes. Nothing too tight, too short, or too revealing. Keep makeup and jewelry to a minimum.
What Not to Wear in Court
Shorts
T-shirts
Halter tops
Tube tops
See-through blouses
Any clothing that exposes your midriff
Ripped jeans or pants
Baggy or sagging pants
Hats
Flip-flops
Platform shoes/Stiletto heels
Clothing with inappropriate images or emblems
Clothing that depicts or promotes any illegal acts
Exercise clothing
Sunglasses
Courtroom Rules
Cell phone use is strictly prohibited in the courtrooms. Cell phone cameras and video are strictly prohibited in the courthouse. Failure to comply will result in confiscation of the device until the Presiding Judge directs that it may be returned and may subject the violator to punishment for contempt of court.
Proper dress is required. No shorts, tank tops, or hats are allowed in any courtroom.
There is no food or beverages allowed in the courtroom.
Items Prohibited in the Courtroom
No weapons of any type.
No cutting instruments of any type, including knives, scissors, or anything with a cutting edge.
No sharp objects, including knitting needles.
No tools of any type.
No aerosol sprays or containers, including mace, pepper spray, hairspray, etc.
No photographic or audio-visual equipment of any type, including cameras, video, or audio recorders or players.
How to Speak in Court
Show respect for the court, for courthouse staff, and for other litigants. While the judge is handling other cases, do not talk in the courtroom except to your attorney or court personnel.
It is appropriate to address a judge as "Your Honor" or "Judge."
Always stand when speaking to the Judge.
Speak clearly and loudly so the Judge can hear you.
Speak only when spoken to. Do not interrupt or argue with the judge.
Use words such as "please" and "thank you."
Do not distract others.
Be prepared to wait several hours for your case to be heard. You may wish to bring a book or magazine to read while waiting.
A lifelong resident of Shelby, North Carolina, David Teddy was raised with a strong desire to help the people of the community he grew up in. It was this desire to help others along with his appreciation of the art of debate that first spurred his drive to practice law.