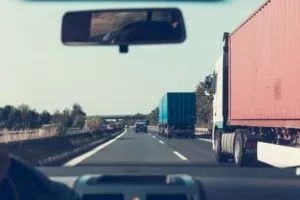 A Federal Motor Carrier Safety Administration (FMCSA) study showed that 71 percent of truck accidents were caused by a distracted driver. A distraction is any non-driving activity that takes the driver's attention away from the road. Unfortunately, actions that take only three to four seconds (like texting) means that at 55 miles per hour, the truck will have traveled the distance of three football fields without the driver looking at the road.
Common Types of Distracted Driving in Truck Accidents
Truck drivers (especially long-haul drivers) can spend long stretches of time on the road, which can often lead to mental and physical fatigue. Under these conditions, distractions are common, including:
Talking or texting on mobile phones
Using electronic dispatch equipment
Eating and drinking
Smoking
Looking at maps or GPS
Watching videos
Changing the music on the stereo
Daydreaming
Exhaustion
Even a momentary lapse in focus or attention to driving can result in a serious injury accident. Because of the increasing problem of distracted driving, state and government agencies have begun to implement laws banning the use of cell phones and other distractions behind the wheel. Some of them specifically focus on the trucking industry.
Truck Industry Laws Regarding Distracted Driving
The FMCSA is the agency responsible for regulating commercial vehicles and providing safety oversight for the industry. Because mobile phones are an increasing problem on U.S. roadways for commercial truck drivers, the FMCSA defines the following behaviors as distracted driving:
Dialing
Texting
Reaching
Holding
Reading
The FMCSA's rules apply to any driver who is engaged in interstate commerce. Any activity other than pushing a single button to initiate or terminate a call is considered to be the improper use of a mobile device. Truckers are required to use hands-free devices that are located "in close proximity to the driver."
In addition to the FMCSA regulations, truck drivers are also subject to any state laws on distracted driving. Violations of these regulations can result in significant penalties.
Penalties for Distracted Driving in North Carolina
The FMCSA penalties are designed to be severe enough to compel truck drivers to comply. Those penalties include:
A fine of up to $2,750
A fine for the truck company of up to $11,000 if they were aware of the cell phone use
Negative marks on the company's Safety Measurement System rating
A second violation can result in up to 60 days of driver disqualification, while a third violation can result in up to 120 days of driver disqualification.
Beyond this, a distracted truck driver who causes an accident can be held liable for all the damage they cause. The truck company may also be found liable in many instances.
Contact Us for Legal Help After a Truck Crash Caused by a Distracted Truck Driver
If you have recently been injured in a distracted driving truck accident in North Carolina, you should immediately contact Teddy, Meekins & Talbert, P.L.L.C. We provide aggressive and compassionate legal representation for those who have been hurt by someone else's negligent actions. We're ready to help you.
Contact us online or by phone now to schedule a consultation with a member of our team.
A native North Carolinian and a fourth-generation lawyer, Ralph W. Meekins literally had the desire to help those who are not able to help themselves as well as to be a practical life adviser to people in his blood.