#KeepPounding Carolina Panthers
As you can see in this photo, we have officially caught a case of Carolina Panthers fever at the law firm of Teddy, Meekins & Talbert, P.L.L.C. All season long, we have watched Cam Newton, Luke Kuechly and the rest of Panthers dominate opponents, and now we can't wait for Super Bowl 50 to arrive this Sunday. After they came close to winning it all in 2003, we think this could be the year that the Carolina Panthers bring the Lombardi Trophy back home to Charlotte.
Like many of you, our legal team will be getting together with friends and family this Sunday to hold a Super Bowl party and catch the kickoff against the Denver Broncos at 6:30 p.m. While we are excited about the game, we want to urge you to make sure that you make smart decisions and play it safe this Sunday. In short, we can't say it enough: Don't drink and drive!
Know when Enough is Enough
This Mothers Against Drunk Driving chart does a good job of explaining how consuming even a slight amount of alcohol can affect your ability to drive safely.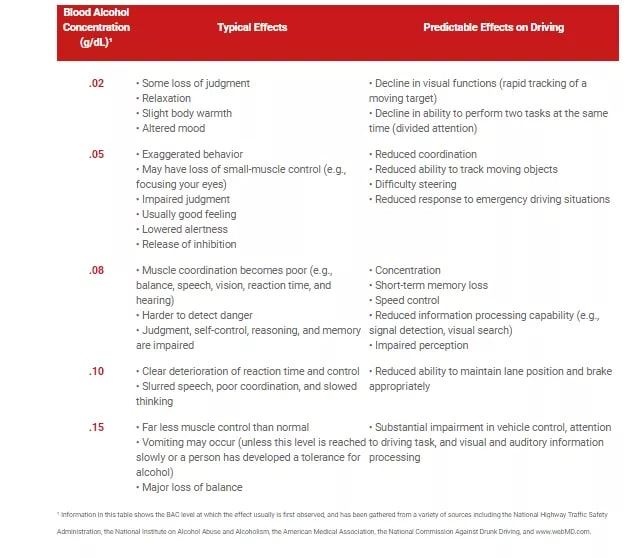 As the N.C Department of Transportation points out, roughly 20,000 crashes occurred between January 1 and February 2 during one recent year, including 951 accidents that were related to alcohol use.
The National Highway Traffic Safety Administration reports that, on a national level, drunk driving caused 40 percent of traffic deaths on a recent Super Bowl Sunday, making it one of the deadliest days of the year on our roads.
A Few Gameday Options…
So, whether you are planning to enjoy the Super Bowl at a home, a friend's party, at a restaurant or bar this Sunday; consider a few of these suggestions instead of drinking and driving:
Make a plan before the festivities begin.
Use a sober, designated driver to get you home safely.
Call a cab, Uber or use public transportation. (Check out these Yelp listings for taxis in and surrounding Shelby.)
Call a trusted, sober friend or family member to give you a ride home.
Go home with a friend.
Additionally, don't try walking home if you have been drinking at a Super Bowl party. Walking while impaired by alcohol can actually be just as dangerous as driving. And don't forget drinking and driving could end up costing your car as well! Remember, caring can save a life! If you see a friend or family member who has been drinking during the game, offer to share a cab, to sit with them while they sober up, or even hide their keys – do your best to not let them drive. However, if you, friend or family member finds her or himself involved in a drinking and driving accident. Contact us for help!
We're a Law Firm with a Winning Philosophy
It's a winning philosophy: A team who builds a great offense, a great defense and just never gives up. It works for the Panthers, and we believe it works for our team here at Teddy, Meekins & Talbert, P.L.L.C., too. We have the ability to serve clients in a wide variety of practice areas, including:
Social Security Disability benefits
We strive to find the right solutions to our clients' legal problems, and we take pride in providing the friendly, personalized service that clients deserve. Don't wait to get in touch with us. Simply call or reach us online today.