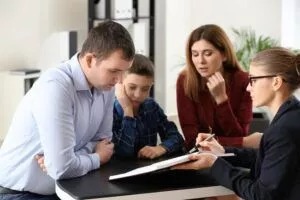 If you are a parent dealing with divorce, your priority is likely your children. Which parent will they live with, and who will make important decisions about their care and upbringing? These questions hit on an essential distinction in child custody arrangements: legal vs. physical custody. You might wonder what these terms mean, why they matter, and how their differences could impact your family.
This article explores the differences between legal custody and physical custody under North Carolina law. It also examines when a court can grant sole legal custody to one parent.
What Is Legal Custody?
A parent who has legal custody has the right and responsibility to make important decisions about the child, such as the following:
Childcare

Education

Religion

Healthcare

Legal decisions

Extracurricular activities
Legal custody can be granted to one parent (sole legal custody) or shared by both parents (joint legal custody). Parents with joint legal custody must consult with each other about important decisions, such as where the child goes to school or attends church.
What Is Physical Custody?
A parent with physical custody has the right to physically care for the child. Physical custody can be granted to one parent (sole physical custody) or shared by both parents (joint physical custody). However, joint physical custody does not automatically mean the child splits their time 50-50 between the two parents.
There are many forms of joint physical custody. For example, one parent may have primary physical custody, meaning the child spends most of their time with that parent. The other parent would have secondary physical custody, which means the child spends some regularly scheduled time with them, such as every other weekend.
Legal Custody vs. Physical Custody
The main differences between legal and physical child custody are which rights and responsibilities each parent is assigned. Legal custody allows a parent to make decisions about the child's upbringing. Physical custody allows a parent to have the child live with them and determines visitation rights.
When Sole Legal Custody Can Be Awarded
Judges make decisions about custody in the child's best interest, which is different for each child's unique circumstances. A judge might determine that a child would be best served by one parent having sole legal custody, such as in the following situations:
If parents live far away from each other

If one parent has a history of abuse or neglect

If one parent has mental health or substance abuse problems

If one parent has not shown interest or willingness to be involved in the child's life
Get Help from Our NC Child Custody Lawyers
If you are facing divorce and worried about the custody of your child, the North Carolina child custody lawyers at Teddy, Meekins & Talbert, P.L.L.C., can help. We understand the interests of your child are paramount, and we will work hard to protect them and their future. Contact Teddy, Meekins & Talbert, P.L.L.C., today to speak with one of our North Carolina attorneys about your case.